We know that solar PV is the future of energy so we have put together a few reasons why so many people are now investing in solar.
1.The cost is going down
Mass production and growth of technology has driven down prices - Solar PV is the cheapest it has ever been!
2. Cost of electricity rising
Homeowners can save (and gain!) money on their electricity bills - which are shown to increase on average 10% every year.
3. Government is taking action
The government has already initiated schemes in favour of solar power, and these are set to increase.
London's "zero carbon" scheme and Scotland's target of generating 40% of electricity through renewables by 2020 are changing the way Brits generate their electricity.
Homeowners and builders across the country are looking for a quick and easy solution to fulfil government targets and comply with local planning requirements.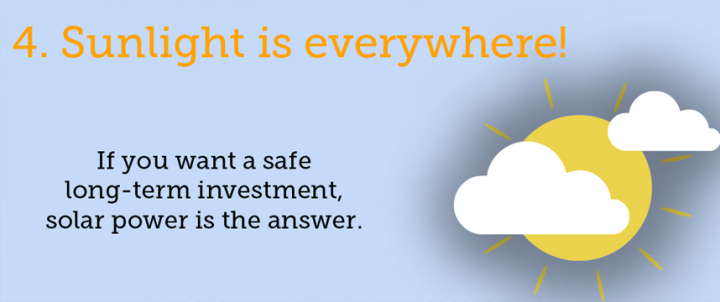 Energy supply is secure with solar panels – even on overcast days your system will keep producing energy, so you don't have to worry in the unfortunate event of a power cut!
The sun will always be around, unlike most other energy sources.
5. Everyone wants eco-friendly technology
Climate change is serious, and zero emission energy sources are a great way to combat this. More and more people are spending their money in a way that reflects their values, and are using solar to promote green energy.
Solar panels reduce carbon emissions, upgrade your property and help towards a greener planet.
6. Battery storage is on the rise
This system makes solar PV more financially attractive, reducing costs by allowing homeowners to store their unused solar energy. Now people are using the surplus energy generated throughout the day by their solar PV systems, at times more convenient to them.
With solar PV and battery storage, homeowners are protected from constantly rising electricity bills and fuel poverty.
**For more information or to view Ecolution Products range of battery storage systems visit our website or call 0845 266 607 **
7. Minimal Maintenance
Solar systems have no moving parts and rain will usually wash off any dust. Solar panels just keep producing, with little maintenance needed.
Most systems come with a product and performance warranty lasting up to 25 years. In addition, Ecolution Group offer a complete maintenance package where we monitor and reactively rectify any issues, guaranteeing the performance of your solar PV system throughout its lifetime.
8. Human Psychology
Even if we aren't convinced by technical or financial benefits, as soon as a technology becomes popular everyone rushes to purchase it. Green energy such as solar power, electric vehicles and home battery systems are becoming a popular trend.
The outlook is favourable for solar power and we look forward to the introduction of more revolutionary solar technology.