For the first time in the UK, renewable energy solutions provider, Ecolution, revealed the world's first portable solar system, smartflower™ at Dukes Polo, Essex (12-13 July). The stunning solar power plant is a unique mobile all-in-one photovoltaics system that unfolds automatically as the sun rises, follows it just like a sun flower, and then folds itself away when the sun sets.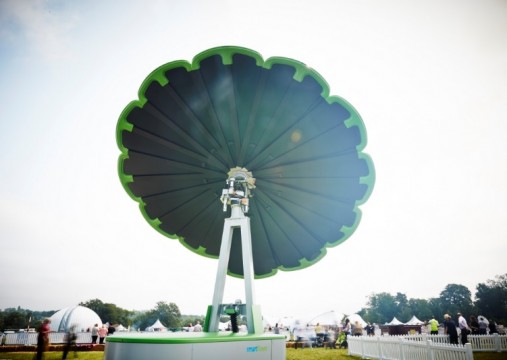 Visitors to the Dukes Polo event were able to see the smarflower in motion as it was tracking the sun, collecting the energy and converting it into electricity. This beautiful and timeless design, inspired by nature, is a practical alternative to solar PV panels – if you move house, simply take your private solar power plant along with you.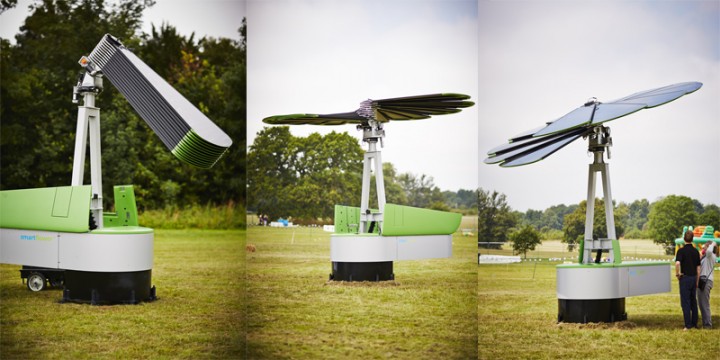 Andy McGloin, commercial manager at Ecolution comments: "Dukes Polo was a fantastic opportunity to showcase smartflower to the UK public for the first time; it was exciting to see the visitors' reaction to this intelligent and innovative product as it slowly unfolded itself.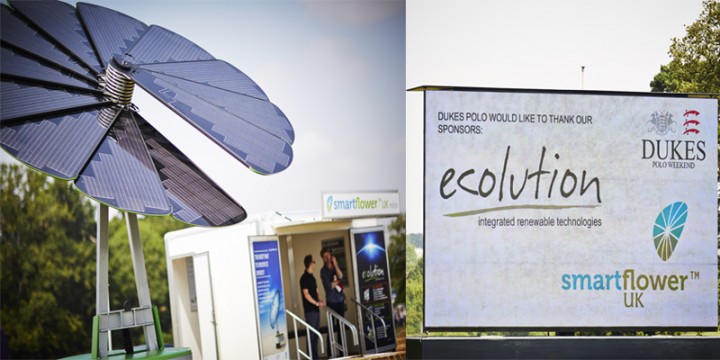 "smartflower offers a design-led approach to renewable energy. With sustainability and energy efficiency becoming every day terms in our lives, we need to provide our customers with products that are simple to use, efficient and at the same time would adhere to their aesthetic requirements."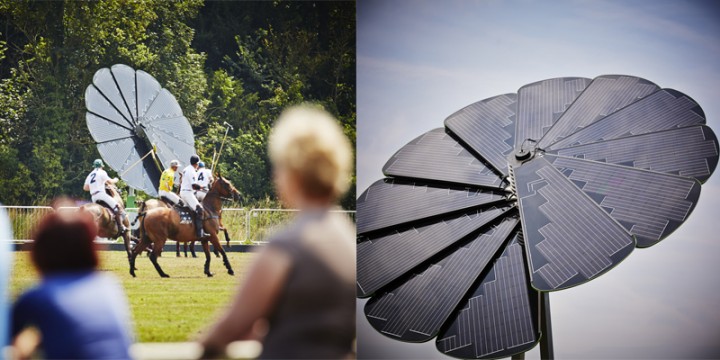 For more information on smartflower™ visit www.smartflower.com/en or view the video.
Twitter: @smartflowerUK
#smartflower
Notes to Editors
About smartflower
Ecolution is the UK sole partner of smartflower™, a portable 3.2kWp solar array which unfolds automatically as the sun rises – tracking its path with a dual-axis tracking system and folding into the unit's housing when the sun sets. The system's 18m2 of solar modules are arranged like a flower's petals and fan out when fully deployed.
The manufacturer claims that the GPS-controlled tracking system results in 40% more output as opposed to a static array. In addition, when the array is folded up in its housing, each module is self-cleaned to ensure a consistently high yield.
About Ecolution
Ecolution, a leading provider of photovoltaic and solar thermal systems to the construction and commercial sectors, has been providing renewable energy solutions to the building industry since 1999. It takes a 360 degree approach advising clients from the initial consultation, through to installation, maintenance and aftercare stages.
Ecolution offers three areas of expertise with Ecolution Installation, Ecolution Energy Services and Ecolution Products. Ecolution Installation installs PV and Solar Thermal systems on new build and commercial retrofit projects; Ecolution Energy Services provides monitoring and maintenance services for the renewable systems; and Ecolution Products will supply PV products to a broad range of installer customers, who require a specialised and knowledgeable service.
Ecolution contact details for publication:
Ecolution House
London Road
Addington
West Malling
Kent
ME19 5SH
T: 08452666558
E: enquiries@ecolutionrenewables.com
Press contacts
Kate Stewart & Jana Pavelkova, The Think Tank on
T:+44 (0) 20 7831 2225
F: +44 (0) 20 7831 1408
kates@thinktank.org.uk or jana@thinktank.org.uk