Article based upon the research thesis of Nadine May of the technical university of Braunschweig, Germany.
This map traces the ideal deployment of solar energy plants in the Sahara Desert to generate electrical power for the world's population. This is because the intensity of sunlight pressing down on the desert maximises the generation of solar power. May's thesis centred around various past engineers ideas of colonizing the Sahara with solar plants. Such plan where originally conceived in 1913 by Frank Shuman and then explored further in 1986 by Gerhard Knies.
These original ideas were based upon the fact that the solar panels would be working at 100% efficiency when I reality it would only be 20% even in the desert. In reality these plans where unrealistic as there would have to be 5 times more power plants and due to large amounts of electrical power being lost over long distances one location of solar power stations would not work.
However this map is a perfect illustration of how little space would be needed to power the entire planet. There are plenty of locations around the world which have available large areas for solar power facilities such as 3.49 million square kilometres in Morocco, Algeria, Tunisia, Libya and Egypt alone. There is more than enough available space which exceed any conceivable need.
Why should we do it?
Due to the numerous advantages -
It doesn't pollute meaning it is carbon neutral and this type of energy will never run out, it is something we can utilise whereas many we use now will become obsolete. You could say it is an investment for the future. The image below by Clean Technica illustrates the annual energy potential of renewable versus non-renewable energy sources: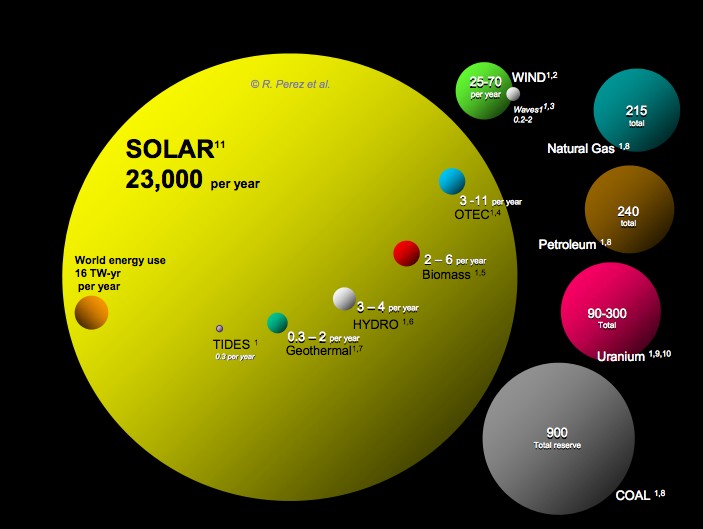 It indicates that solar energy clearly outperforms the potential of every other source combined.
Solar power also creates more jobs than non-renewable resources which would benefit economies. As illustrated in the diagram below from the University of Massachusetts' Political Economy Research Institute, solar power creates three times as many jobs as natural gas and coal.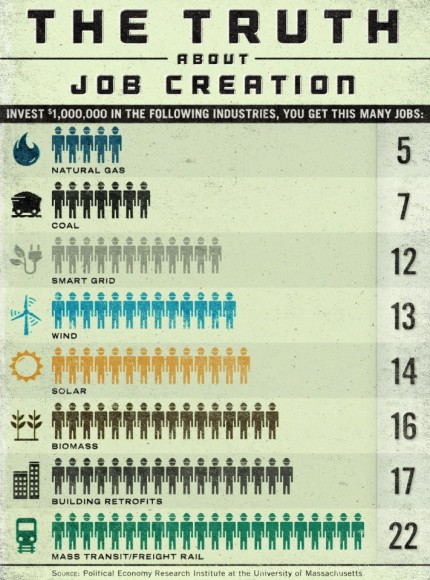 Even though clean energy remains expensive, the costs of both wind and solar has dropped by 50% since 2008. It is proven that some applications like homes have found it is cheaper power supplied from other sources. Solar power is reaching new technologies which are making it far more competitive in cost compared to coal which is increasing especially in the US.
Researchers say that panels pay back the costs of the energy it takes to build and install in just 1 to two and a half years while the actual panels themselves have a live expectancy of approximately 30 years. And in addition they are 89% cleaner than other energy source.
Each day this plan is sounding like a smarter option.