Few companies can claim to be a fundamental part of everyone's day to day life. The National Grid are power system operators whose infrastructure keeps homes heated, kettles boiling and business running.
For years the national grid has been primarily made up of coal power stations which as we all know are damaging to the environment. However as recently reported on our blog, renewables are overtaking fossil fuels as the number one source of power in the UK. -https://www.ecolutiongroup.com/blog/2017-the-year-renewable-energy-became-unstoppable
The total energy demand for the entire country is currently at a demand of 44.26GW. This supply is split between coal, wind, solar, nuclear, biomass, hydropower and also receives a mix of contributions from France, Germany and Ireland. These figures are based on metered power supplies only within the UK, however, all unmetered solar and wind power is thought to contribute around 60% more than what is traceable. http://www.gridwatch.templar.co.uk/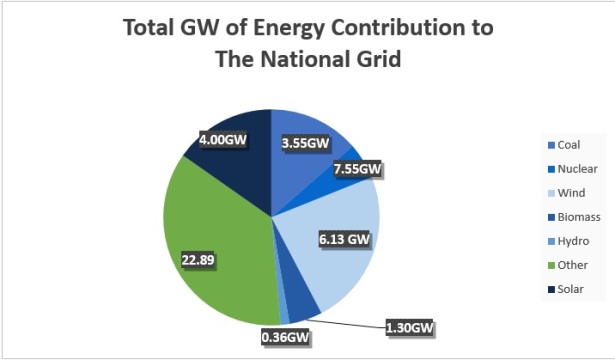 Following on from this It was reported by the financial times that "Coal-fired generation has fallen 71 percent in the UK in the past year and is now exceeded by wind and solar power". In fact, there are now only 8 active coal stations left in the UK and all of these are due to close within the next 6 – 8 years. Below is a graph which details the amount of power these power stations currently supply to the national gird and how long they have been operating for.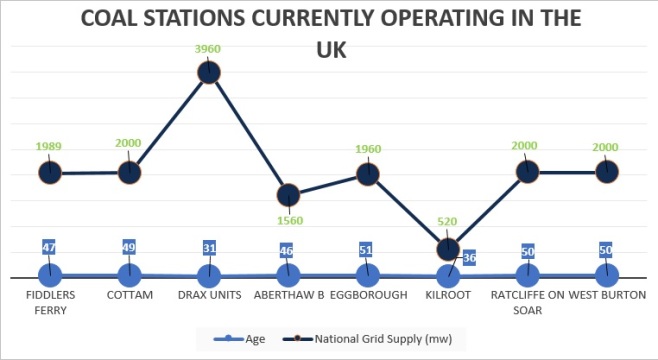 This shift away from fossil fuels signals a new era for the United Kingdom with more than half the UK's electricity coming from low carbon sources last summer, which led to the National Grid dubbing it "the greenest summer ever". "Between late June and September 2017, 52% of electricity generation was met by low carbon sources compared to the 32% from 4 years ago"
This has been fuelled by the rise in renewable power stations replacing those of coal. For instance, there are currently 17 solar-powered stations in the UK which supply electricity directly to the national grid. These power stations have only been active within the last three to four years and have a combined installed capacity of 529.9MW. With their continuing popularity and declining installation costs, solar power stations will continue to expand and likely become the power station of choice within the UK.
However, alongside solar power, wind is also a big player in providing energy to the national grid with 38 monitored on-shore farms currently operating within the UK, some of which have been open for over 25 years. These 38 on-shore wind farms have a combined install capacity of 498.9MW, however, this figure would be higher if we included unmonitored or off-shore wind farms.
This is shown in the table below which highlights the percentage of energy produced by monitored coal, wind and solar power stations each year.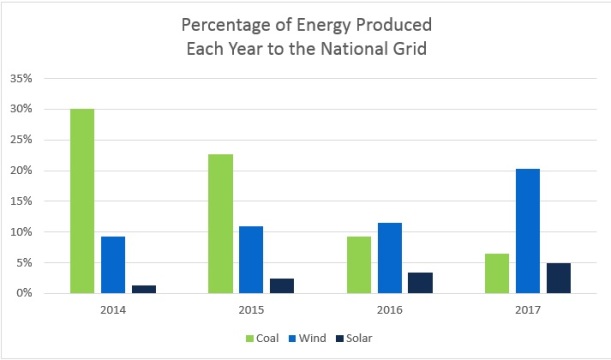 The Independent reported that this change to renewables represented "a new era of grid operation". This is due to the UK now having significant volumes of renewable energy on the system which poses an exciting challenge for the national grid in ensuring the supply and demand are matched second by second.
Having these renewable energy infrastructures as our main source of power is a success for the UK in terms of cutting down on our carbon emissions. It also puts us on track to meeting our Green targets set by the Paris agreement in 2015.
Meeting these targets leads us to predict that the UK will be fully generating all power for the UK via renewable sources by 2025. This is the year the Government has pledged to end the burning of coal in power plants which would lead to further growth for wind and solar farms.
This constant development in renewables is a clear message to any new government that they should prioritise making the UK a key player in clean, green technology. Recognising the economic potential of renewable energy and energy efficiency is key and is only shown by the research done here today.