If you didn't already know the Clean Growth Strategy the CCC – the UK's official climate watchdog, published the Clean Growth Strategy in October 2017 to ensure the Government sets out plans to meet the legislated fourth and fifth carbon budgets, covering UK emissions in the periods 2023-2027 and 2028-2032.
The Strategy has set out strong ways to improve the energy efficiency of our homes; to phase out the sale of new conventional petrol and diesel cars and vans by 2040 and to reach 85% of UK electricity generation from low-carbon sources in 2032. However, to meet all these targets on time urgent policy developments will be required.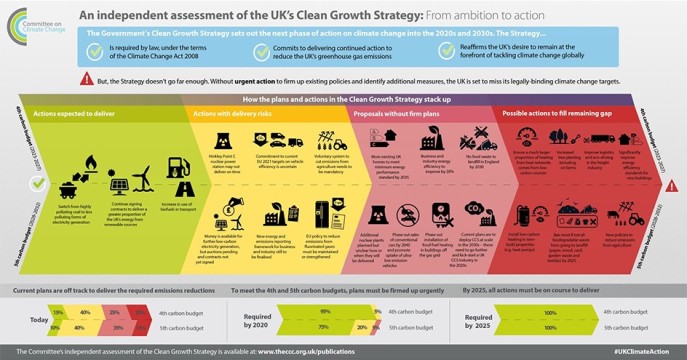 This means for the government the next step is to firm up the current set of policies, proposals and intentions and develop further ways of closing the gap to be on track to meet the fourth and fifth carbon budgets.
In particular, the CCC warned that more detail is needed on the government's plans to:
• Improve energy efficiency standards in new buildings
• Deploy carbon capture and storage (CCUS) at scale
• Phase out petrol and diesel vehicles by 2040
• Cease installing fossil fuel-based heating in homes and businesses
• Generate 85% of electricity from low-carbon sources by 2032.
While these elements of the strategy are fundamental in delivering the government's targets, the plan fails to address delivery risk. For example, the strategy relies on the construction of the new Hinkley Point nuclear power plant but does not address the risk that it may not be completed on time.
Lord Deben the chairman of the CCC welcomed the scope of the strategy but cautioned that strong follow-up action is still needed: "The Clean Growth Strategy is ambitious in its aims to build a thriving low-carbon Britain but ambitions alone are not enough. As it stands, the strategy does not deliver enough action to meet the UK's emissions targets in the 2020s and 2030s."
He recommended: "The government's policies and proposals will need to be firmed up as a matter of urgency – and supplemented with additional measures – if the UK is to deliver on its legal commitments and secure its position as an international climate change leader."
These actions may prove necessary, as the CCC estimates that even if current proposals are delivered, the UK could miss its carbon targets by between 10-65 MtCO2e. However, making the move to renewable energy could be a big factor in us meeting these targets on time.
So whether you're looking to meet government requirements, save money or be more environmentally friendly, Ecolution Renewables are here to help you make the switch to renewable energy.
Contact our dedicated team to discuss making the switch to renewable energy today and our team will be happy to help!