The Solar trade association has reported that large-scale solar PV systems in the UK will be cheaper that having gas before 2018.
This report looks at the levelised cost of electricity of solar from 2014-2030. The analysis shows that large-scale solar deployment will achieve dramatic cost reductions over the years to come. It was calculated by the STA that this large-scale solar will achieve 44% drop in costs by 2030.
Going from these predictions we will see PV beat gas on price by 2018. The cost reduction curse will also see solar-generated electricity become cheaper than wholesale electricity between 2025 and 2028 which is not that far away at all.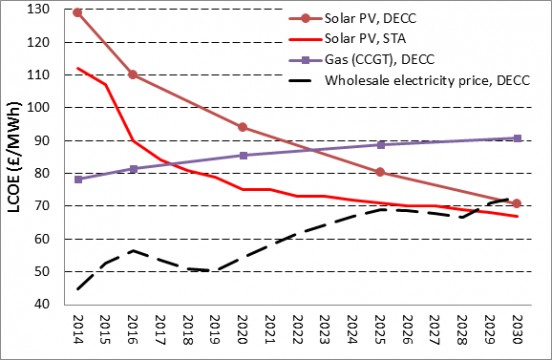 It is clear even now that within society many people still don't realise just how close solar is to being competitive with gas-fired power generation. With UK solar close to becoming subsidy-free, it is crucial that we maintain stable government policy that supports grid connected utility-scale solar as opposed to traditional fossil fuel stations.
Clean energy is the way forward!