For the first time in the UK, wind farms and solar panels produced more electricity at the end of last year than the eight UK power stations!
Not only this but Britain's greenhouse gas emissions have also continued to fall, dropping by 3% in 2017 as coal use has fallen and the use of renewables has exploded. This was mainly seen in the energy sector which experienced the biggest drop in emissions of any UK sector and dropped by 8%, in contract to transport and businesses which remained unchanged.
Industry specialists on renewable energy have said that these figures show that the government should now rethink its ban on onshore wind subsidies, a move that ministers have hinted could soon happen.
Chief executive of the big six lobby group Energy UK, Lawerence Slade has said of this next milestone "We need to keep up the pace, by ensuring that the lowest cost renewables are no longer excluded from the market."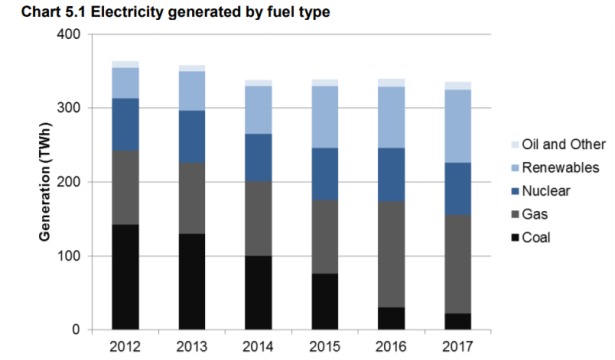 - GOV UK
Across the whole of 2017, low carbon sources of power provided a record 50.4% of electricity which was up from 45.7% in 2016! These low carbon sources included wind, solar, biomass and nuclear power.
However, not only did they provide a record number of power, in the fourth quarter of 2017, high wind speeds and new renewable installations saw wind and solar become the second biggest source of power for the first time.
Overall these two powers, wind and solar generated 18.33 terawatt hours (TWh) with nuclear only at 16.69 TWh as shown in figures published by the Department for Business, Energy and Industrial Strategy show.
However, although renewables are reaching new milestones year upon year they still have a long way to go to catch up with gas, the UK's top source of electricity at 36.12 TWh which saw its share of generation fall slightly.
Greenpeace have also commented on these remarkable figures and have said: "The government should capitalise on its lead in renewables and stop wasting time and money propping up nuclear power."
With this latest milestone having been revealed the UK energy minister, Claire Perry recently spoke out and said, "We will have to do more to bring forward wind and solar power, which we will, we just haven't said when yet."
Ecolution are excited to see what 2018 can bring for renewable energy and hope we can help drive these figures up to allow renewable energy to become the number one source of energy within the UK!